Demi Moore
is on the cover of
December's
W
wearing a festive holiday getup. The reigning
Queen of Twitter
talks about (what else?) being a cougar and how great
Ashton Kutcher
is. Feels like we've heard this all before from the actress, but let's do it anyway.
While everyone considers Demi to be the O.G. cougar, she doesn't see it that way.
"I'm certainly not the first person to be in a relationship with a younger man, but somehow I was plucked out as a bit of a poster girl," she says. "I don't know why that is. But I just kind of step back sometimes and say, 'There is some reason, and what is it that I have to share in a positive way?' I'd prefer to be called a puma."
("Puma" is
already used
to describe women in their 30s who go for younger men, so 47-year-old Demi doesn't really fall into that category. But she thinks "she came up with the new designation," so maybe it's best to let her go on believing that?)
Now about her 31-year-old husband. She loves him. A lot.
"The most overwhelming part of meeting someone that you already felt you had such a deep and old connection with is that your feelings are greater than the time you've had to actually be with one another. Now we've had the physical time together. The love he has for me makes me a better person by giving me the courage to take risks. I can fail and have someone who loves me just the same. I never knew it was quite possible."
If she's not gushing about her hubby on Twitter, she's gotta gush somewhere. Now let's wrap this up with a photo of Demi looking like she's ready to join the next round of
Dancing With the Stars
. (That'll happen at some point, right?)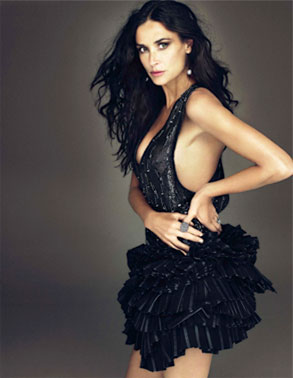 W Magazine; Mert Alas and Marcus Piggott